Image via NFL.com
NFL Wild Card Preview
By the CouchGM Team: Andrew, Terry, and Zach on January 11, 2022
The CouchGM team and Super Bowl Predictor make picks for each of the Wild Card round games.
First, a quick check on the Super Bowl Predictor ahead of the NFL playoffs
| Team | Super Bowl Probability |
| --- | --- |
| Green Bay Packers | 14.39% |
| Buffalo Bills | 8.28% |
| Tennessee Titans | 10.64% |
| Dallas Cowboys | 10.20% |
| Kansas City Chiefs | 9.94% |
| Tampa Bay Buccaneers | 9.19% |
| New England Patriots | 7.17% |
| Cincinnati Bengals | 5.21% |
| Los Angeles Rams | 5.10% |
| Arizona Cardinals | 4.42% |
| San Francisco 49ers | 3.01% |
| Las Vegas Raiders | 2.78% |
| Philadelphia Eagles | 2.50% |
| Pittsburgh Steelers | 2.30% |
The #1 overall seed Packers are the favorite, no surprise, followed by the #3 Bills, #1 Titans, and #3 Cowboys.
Let's predict each of the wildcard matchups.
Saturday Games
Las Vegas At Cincinnati
Game Predictor:
| Team | Win Probability |
| --- | --- |
| Cincinnati Bengals | 65.23% |
| Las Vegas Raiders | 34.77% |
Andrew:
Maybe the Raiders have some good karma going for them since they could have played for the tie against Chargers but instead they went for the win, but I'll take the Bengals. 27-20.
Terry:
The opening game of this year's playoffs, the atmosphere in Cincinnati should be electric. Derek Carr is #5 in passing yards and Joe Burrow is #6. Both have thrown 14 INTs but Burrow has 34 TDs to Carr's 23. Also, Carr has thrown the ball 626 times this year to Burrow's 520. The Bengals should win this game with Burrow and Ja'Marr Chase playing starring roles.
Zach:
Cincinnati. Gimme this guy: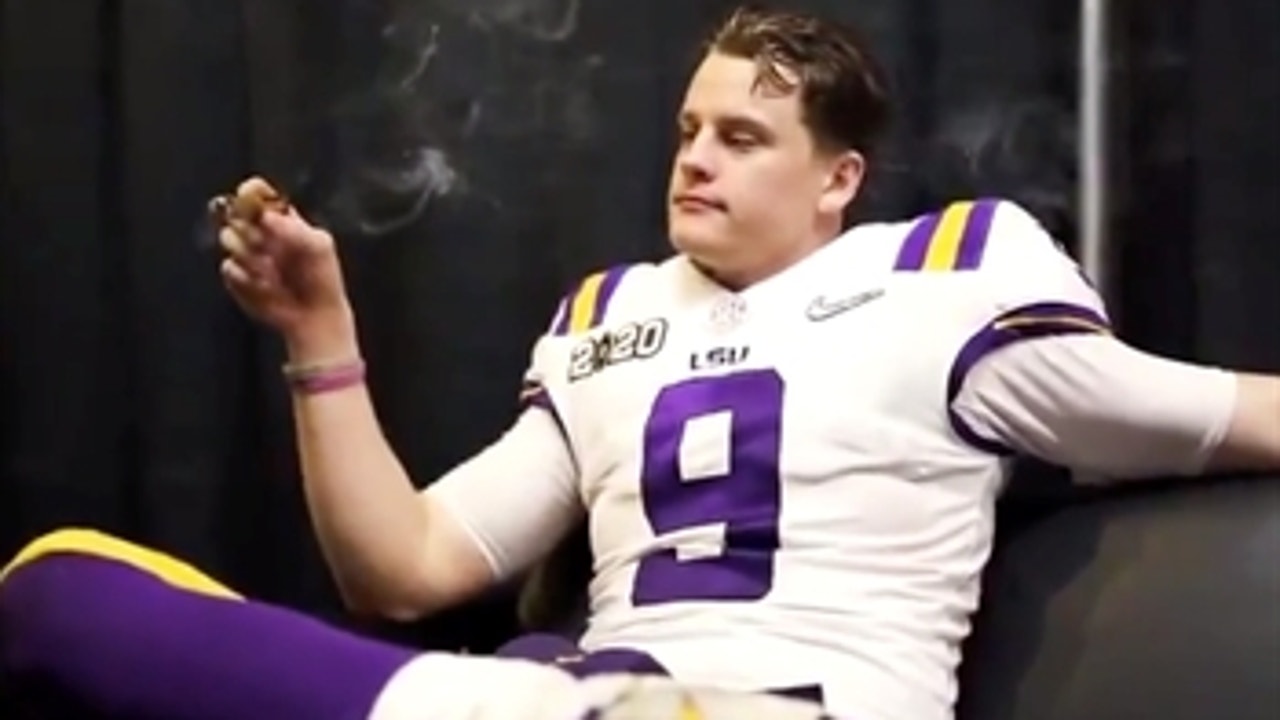 New England At Buffalo
Game Predictor:
| Team | Win Probability |
| --- | --- |
| Buffalo Bills | 64.69% |
| New England Patriots | 35.31% |
Andrew:
Bills. I think the blizzard game against the Patriots earlier in the year was a fluke due to supreme coaching (Belichick knowing not to have a rookie throw dozens of times in a blizzard) and poor coaching (McDermott not adjusting his philosophy to account for wind and freezing temperatures). Even with temperatures in the single digits this weekend, I take the Bills. 24-10.
Terry:
As hard as it is to pick against Belichick (a.k.a. The Coaching GOAT), I expect the Bills have fully learned their lesson from the shove-it-down-your-throat lesson the Patriots gave them in the snow. The Bills' offense has been steady for the past month. Expect that to continue.
Zach:
Buffalo. The Bills split with the Patriots this year, but the loss came in a blizzard. Unless it's snowing on Saturday, I like the Bills in this one. Buffalo was one of our model's favorite teams all season, ranking in the top-3 for 8 of the 10 weeks that the model was active this year. A year ago, I wrote about whether Kyler Murray was good enough to win the Super Bowl. At the end of that piece, I concluded that the next first-time Super Bowl winning QB would be Josh Allen. I'm standing by that prediction this year and taking the Bills to win it all. Can't win it all if you don't win the first one.
Sunday Games
Philadelphia At Tampa Bay
Game Predictor:
| Team | Win Probability |
| --- | --- |
| Tampa Bay Buccaneers | 78.62% |
| Philadelphia Eagles | 21.38% |
Andrew:
I see this being the 2nd most lopsided game of the weekend. I called Philly being a playoff team in the power rankings on November 23rd because of their soft schedule. Philly only played 6 playoff teams, and they went 0-6 with an average margin of defeat of over 13 points, including a 28-22 loss against Tampa Bay in Week 6. The Tampa Bay Brady's were 4-1 against playoff teams with the only loss in week 4. Bucs win 35-17.
Terry:
The soft Philadelphia schedule makes it difficult to get a good read on the Eagles. Regardless, playing on the road against Tom Brady and the defending Super Bowl champion Buccaneers is a tall order for any team, let alone a team with question marks. Our model says it would be a colossal choke if Tampa loses this game. I agree.
Zach:
Tampa Bay. Philadelphia has lost to every good team they've played. And, you know, the Bucs are good.
San Francisco At Dallas
Game Predictor:
| Team | Win Probability |
| --- | --- |
| Dallas Cowboys | 77.21% |
| San Francisco 49ers | 22.79% |
Andrew:
I won't call the upset, but if there was one this would be it. The 49ers finished the year 7-2 and are one of the hottest teams. I'll go 31-28 for the Cowboys.
Terry:
Our season-long model likes Dallas in this matchup. A lot. The recent play of each team, however, casts some doubt on that level of certainty. The playoff expectations in Dallas are historically unrealistic and this year is no different, yet the Cowboys are only a slim 3.5 point betting favorite. SF is a 50/50 pass/run team; Dallas is 58/42 pass/run. If SF runs the ball effectively and Jimmy Garropolo's thumb holds up like it did last week, SF could win. If time of possession is not lopsided in SF's favor and Dak plays at his season averages, however, Dallas will win and cover. Flip a coin. Dallas wins.
Zach:
San Francisco. My first and only upset choice. The Niners have won 7 of the last 9, including 3 of their last 4 against playoff teams (beat the Rams twice and Bengals once, lost to Titans). The Cowboys have lost three of their last 4 against playoff teams (beat Philly last week, lost to Arizona, Las Vegas, and Kansas City before that).
Pittsburgh At Kansas City
Game Predictor:
| Team | Win Probability |
| --- | --- |
| Kansas City Chiefs | 81.22% |
| Pittsburgh Steelers | 18.78% |
Andrew:
This will officially be Big Ben's last game. I don't think it will be close. 34-13.
Terry:
I can't foresee any scenario in which Pittsburgh wins this game that doesn't involve multiple defensive or special teams TDs and Patrick Mahomes throwing 4 INTs. Not gonna happen.
Zach:
Kansas City. The Chiefs rate pretty similarly this year to their Super Bowl winning year (1st in points scored per drive, below average in points allowed per drive, top-10 in net points per drive and takeaways, 2nd seed). If not for the looming (potential) matchup with the Bills, I'd pick the Chiefs to represent the AFC in the Super Bowl.
Monday Game
Arizona At Los Angeles
Game Predictor:
| Team | Win Probability |
| --- | --- |
| Los Angeles Rams | 53.57% |
| Arizona Cardinals | 46.43% |
Andrew:
This could either be the best game of the weekend (which is what the NFL thinks based on them getting the only Monday night game) or it could be a blowout. Honestly it wouldn't surprise me to see a blowout from either team. Arizona, when they are clicking, can beat anyone (like at the Rams 37-20 in week 4 and a 5-2 record against playoff teams). When they try to get too cute, they get sloppy and lose to bad teams (Lions, Panthers, Colts, Seahawks). Los Angeles has won 5 of their last 6 (including a 30-23 win at Arizona) and look to be hitting their stride. Matt Stafford, however, has a career record of 10-70 against teams with a winning record (including 2-5 this year against playoff teams). Can he really win almost half that much in consecutive weeks? We shall see.
Gut call, Rams 27 - Cardinals 23.
Terry:
The outcome of this game will be Matthew Stafford's or Kliff Kingsbury's first playoff win and there's pressure on both. With as poorly as the Cardinals' offense has played the second half of the season, Arizona will need the return of first-half-of-the-season Kyler Murray (and also a good game from the offensive line) or else Aaron Donald and his mates will decide this one. The Rams are all in for this year and next; then they'll have to pay the payroll piper. They backed into the division win and Stafford finished the regular season tied with Trevor Lawrence for most INTs (17). Despite Stafford finishing the season #3 in yards (behind only Brady and Justin Herbert) I expect Sony Michell and Darrell Henderson Jr. will run the ball a lot and well for the Rams. If Sean McVay doesn't put the game entirely on Matthew Stafford's shoulders, the Rams will win. However, if the Rams neglect the run (like the Titans inexplicably did against AZ in week 1), AZ will keep it close and then a hot Kyler Murray could prevail. Too many ifs. Our model slightly prefers the Rams. So do I. Unfortunately.
Zach:
Los Angeles. The Cardinals are honestly a little lucky to even be here after another late season collapse. I just don't think Kliff and Kyler can beat McVay and Stafford when it actually matters. That the Cardinals were 8-1 in road games and 5-2 against playoff teams vs LA's 2-5 against playoff teams made me stop and think, I just have more confidence in the Rams.
back to blog