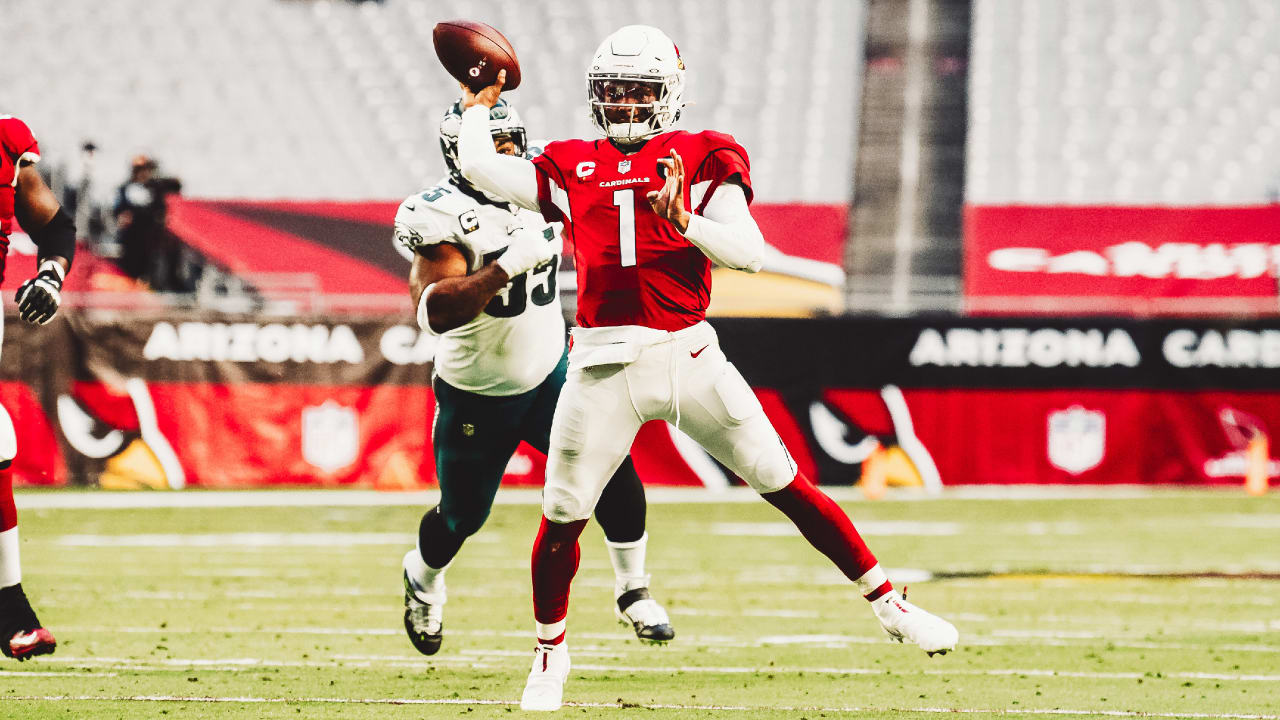 Photo by Arizona Cardinals, azcardinals.com
Can Kyler Murray win a Superbowl?
By Zach Hales, CouchGM on February 2, 2021
What kind of QB does it take to win a Superbowl? Can Kyler Murray become that QB? Let's look at the last 10 Superbowl winners to find out.
With the Superbowl fast approaching, and with two past Superbowl-winning QBs facing off, CouchGM decided to analyze up-and-coming QBs that have never won the Superbowl to see who has what it takes. And, due to our Arizona Cardinals fandom, we start with Kyler Murray.
First, a baseline for comparison was created by looking at the past 10 Superbowls (2010-2019) and compiling the stats for those QBs. Here's the full list of players: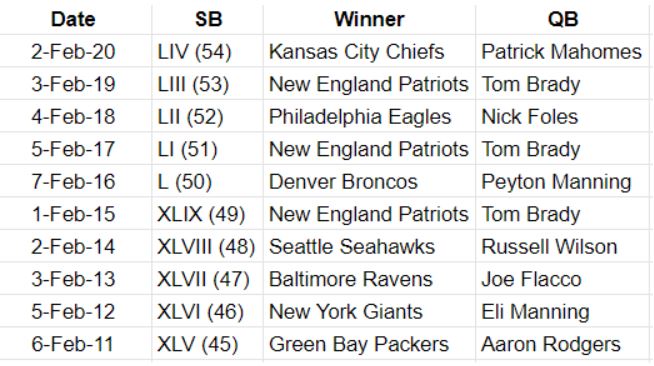 For our comparison, 2015 Peyton Manning (Superbowl 50) was excluded because he missed 6 games and 2017 Nick Foles (Superbowl 52) was excluded because was the backup and didn't play much during the regular season.
With that in mind, we compiled from Pro-Football-Reference the regular season stats for each of these quarterbacks, calculated the average, and compared to 2020 Kyler Murray. The following charts and commentary describe the findings.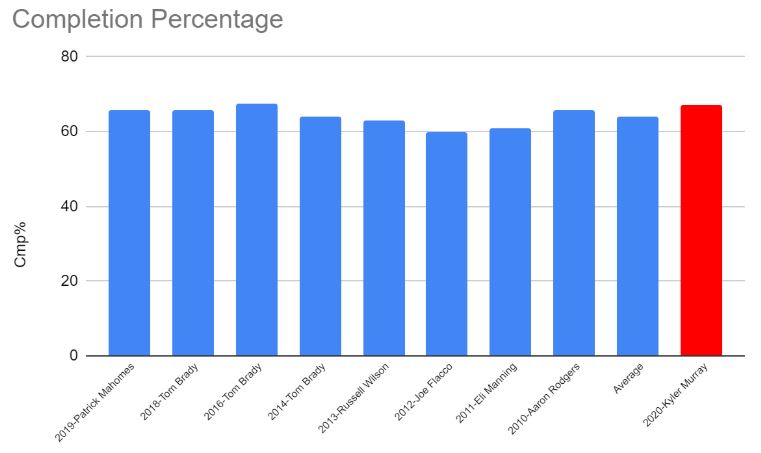 Kyler Murray's 2020 completion percentage of 67.2% ranks second-highest in the group, behind only 2016 Tom Brady's 67.4%.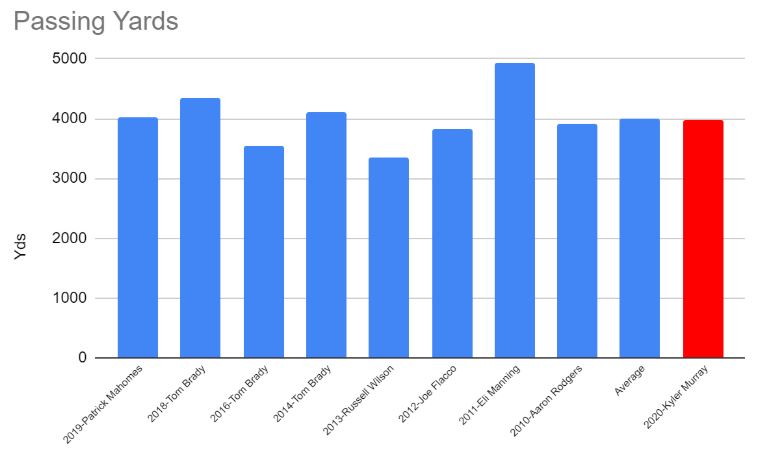 Murray comes in at almost exactly the group's average for passing yards.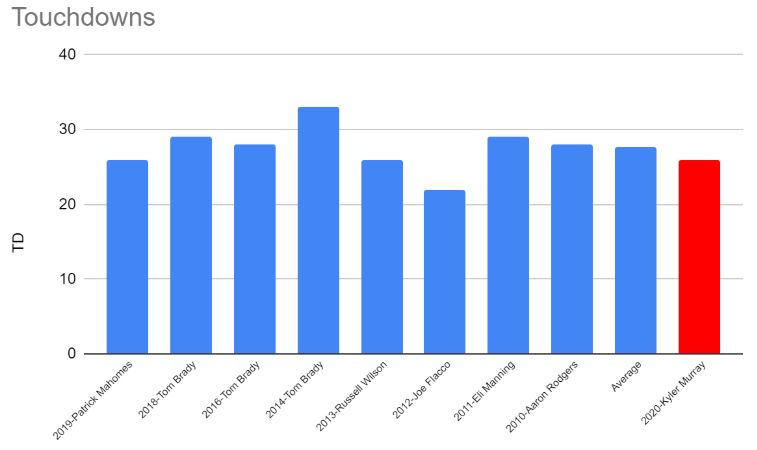 Murray TD total (26) is tied for second-worst, only higher than 2012 Joe Flacco (22). He's only slightly below average for the group, though. And given how often he throws (among the highest in the group in attempts), I'd like to see more touchdowns.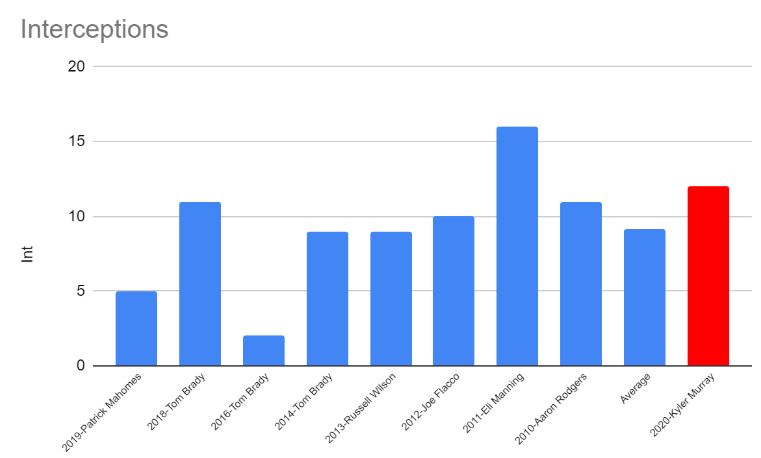 Murray's 12 interceptions are second-worst, only better than 2011 Eli Manning's 16. Most Superbowl-winning QBs threw 10 or fewer interceptions, so we'd like to see Murray improve here.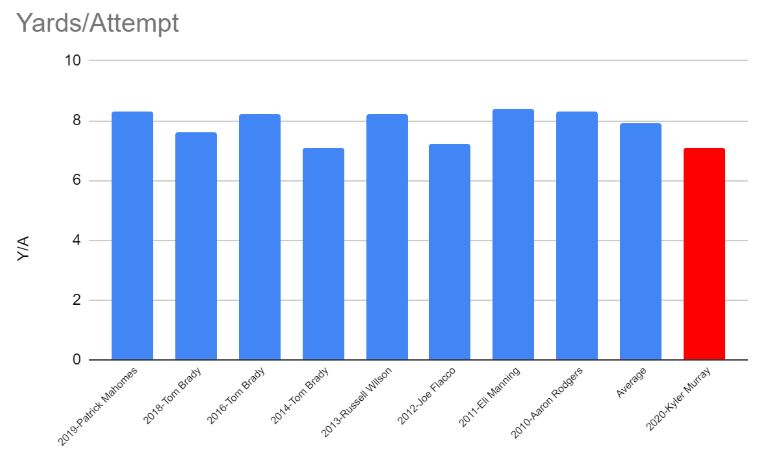 Murray is tied for worst in yards per attempt (7.1) with 2014 Tom Brady. 2012 Joe Flacco (7.2) is the only other one close. Everyone else is at nearly 8 Y/A.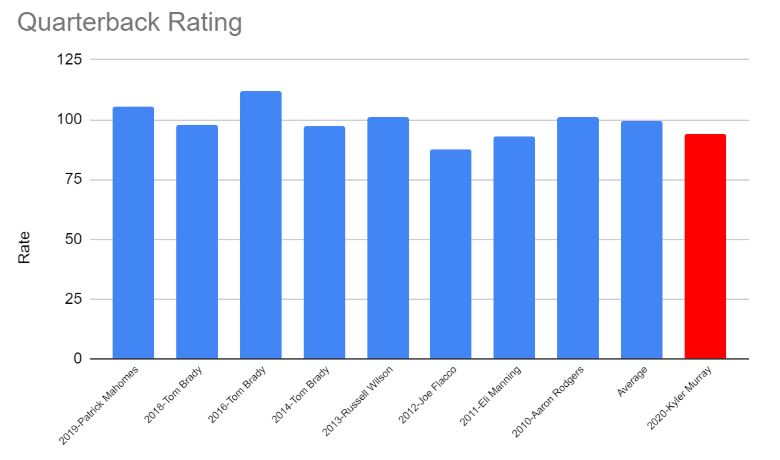 And lastly, in Quarterback Rating, Murray is again second-worst (94.3), only better than 2012 Joe Flacco (87.8).
To review, Murray is tops in the group in completion percentage, close to average in yards and touchdowns, and second-worst or worst in interceptions, yards per attempt, and quarterback rating. I'd also conclude that 2020 Kyler Murray was better or pretty comparable to 2012 Joe Flacco, 2011 Eli Manning, 2014 Tom Brady and 2013 Russell Wilson.
The raw numbers look decent. He doesn't fall incredibly short anywhere, though there is definitely room for improvement.
However, comparing just raw stats probably isn't the best way to do this, since what we really want to know is how Murray compares to his peers. Is he a top-10 QB or is he merely average? Common sense would tell that the best quarterback, or at least one of the best, will win the Superbowl each year. We expect the winner to be dominant. So we compared each Superbowl winner's league-wide ranking in each stat to Murray's.
In the following graphs, since the league-wide ranking is displayed, lower is better. With 32 teams in the league, a ranking around 16th would be "league-average."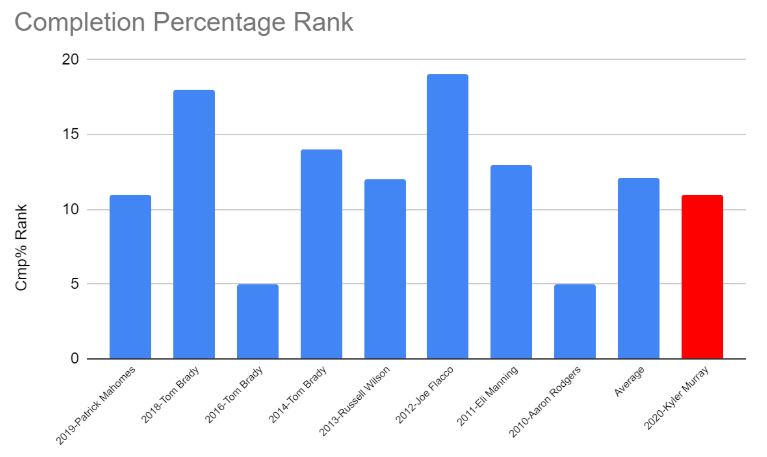 Murray was 11th in the league in completion percentage for 2020, which is just better than the group average (12th). Interestingly, only 2016 Tom Brady and 2010 Aaron Rodgers ranked inside the top-10 in the league their Superbowl winning year, both coming in at #5. Most were in the 10-15 range, right where Murray finished. So it appears above-average, but not elite, completion percentage is the requirement. So Murray is still where he needs to be in terms of completion percentage.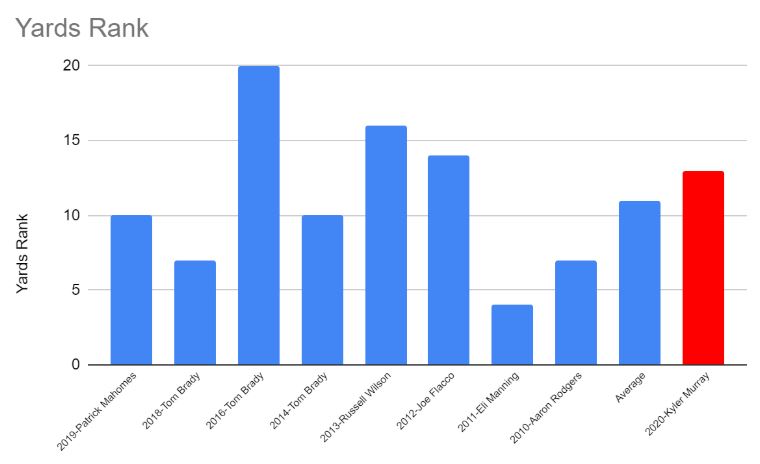 In passing yards, again an above average but not necessarily elite quarterback is required. Murray finished 13th in passing yards, slightly below the group average (11th), but not by much. So far the raw stats and league-wide rankings tell the same thing.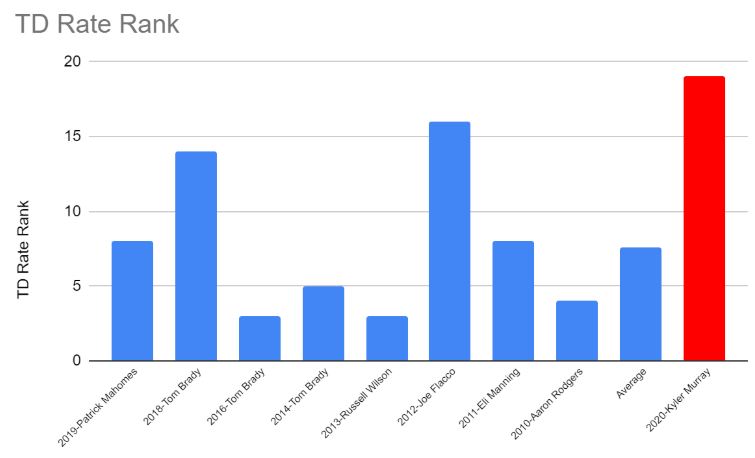 Note: here we show the quarterback's ranking in touchdown rate (passing touchdowns / pass attempts) as opposed to total touchdowns, since using touchdown rate puts the quarterbacks on equal ground whether they throw a lot or a little. The rankings change little whether you look at total touchdowns or touchdown rate, so it probably doesn't matter. We do the same for interception rate instead of total interceptions.
Here, we start to see a lot more separation between the Superbowl winners and Murray AND we start to see where Superbowl winners are elite performers. 4 out of 8 QBs ranked in the top-5 in touchdown rate and another 2 ranked inside the top-10. The group average is 8th. Murray was the worst of the group, ranking only 19th in the league. Far from dominant.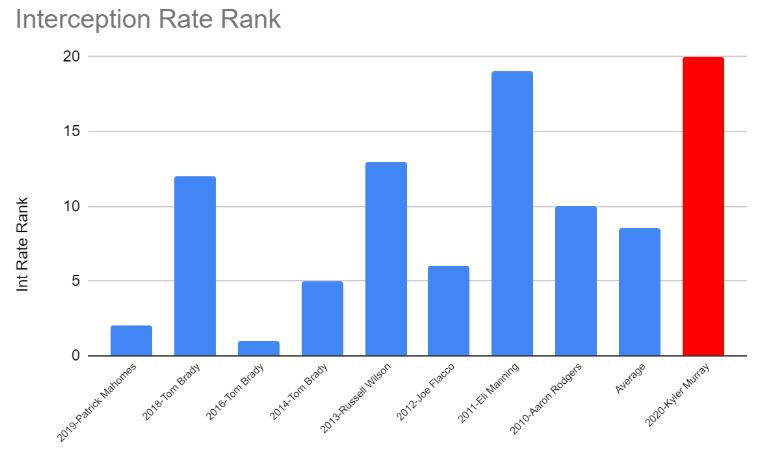 We see something similar in interception rate. 5 out of 8 QBs ranked in the top-10 with 3 in the top-5. Only 2011 Eli Manning was the only one worse than "league-average" 16th. Murray is again the worst in the group, ranking 20th in the league. The group average here is again 8th.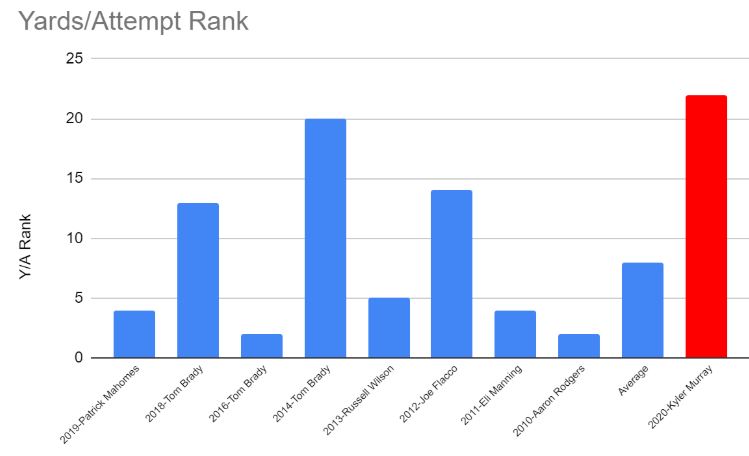 It gets worse in yards per attempt. The group average is 8th, and this time 5 out of 8 ranked in the top-5. Only 2014 Tom Brady (20th) would be considered below "league-average." Murray is again the worst, ranking 22nd.
In fairness to Murray, it's hard to say whether this is a result of Murray not throwing the ball downfield or Kliff Kingsbury only designing short-throw plays. The eye test tells me that the Cardinals throw short passes more than other teams, but is that because Murray won't throw downfield or because receivers don't run downfield? I think at minimum the blame is shared, so this isn't all on Murray.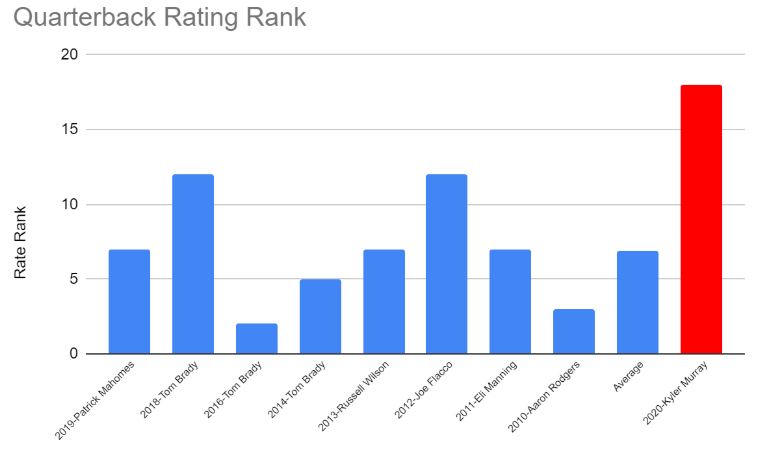 And finally, we see the same for Quarterback Rating. The group average here is 7th, and all 8 quarterbacks are above "league-average" 16th. 6 out of 8 finished in the top-10 and 3 in the top-5. Murray is again the worst at 18th.
To summarize, the expectation for a Superbowl winning QB is top-12 (above average) performance in completion percentage and passing yards and top-8 (elite) performance in touchdowns, interceptions, yards per attempt, and Quarterback Rating. Murray is above-average in completion percentage and yards and below-average or worse in touchdowns, interceptions, yards per attempt, and Quarterback Rating. He does not rank in the top-10 in any of the stats.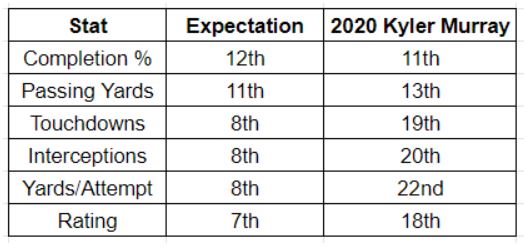 Looping back to raw stats, remember that Murray was best in the group studied for completion percentage and pretty near average for everything else. So after year 2, I think he's off to a pretty good start. I'd like to see more touchdowns, fewer interceptions, and more vertical throwing/greater yards per attempt to bump him up from average or below-average into above-average or elite status. He also made significant improvements from year one to year two, even with the limited offseason, so there's reason to believe he'll continue improving heading into year three.
Additionally, Murray adds elite value as a runner. I see this as only a positive and anything you get here is a bonus. And mobile quarterbacks like Mahomes and Wilson have won the Superbowl. But to win the Superbowl, the QB also has to be elite as a thrower.
And finally, Kyler Murray led three 4th-quarter comebacks and 4 game-winning drives in the 2020 season, both of which were tied for second in the group with 2013 Russell Wilson, better than all but 2011 Eli Manning (five 4th-quarter comebacks, 6 game-winning drives). So there is reason to feel confident in his ability with the game on the line.
A recent ESPN article rated the Cardinals as "still a year away" and called Murray "already the type of quarterback who can get a team to a Super Bowl -- and then win it." I wouldn't say he is "already" that kind of QB. We've seen that he is below average in areas where Superbowl winners are elite. But he is good in other areas and as long as he continues to improve, he definitely could become that kind of QB.
I also compared Murray to several other young quarterbacks: Deshaun Watson, Josh Allen, Lamar Jackson, Baker Mayfield, and Dak Prescott to try to predict who would be most likely to win a Superbowl. Their league-wide rankings are shown below. Remember, for these rankings, lower is better.
Note: Dak Prescott's 2019 stats were used since he missed most of 2020 to injury.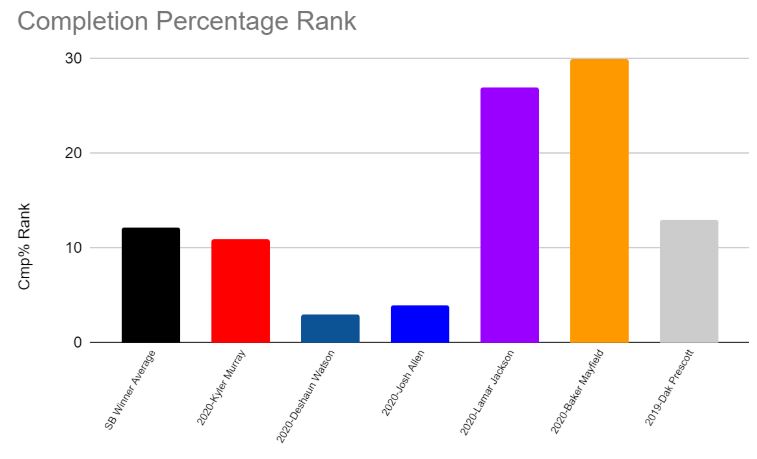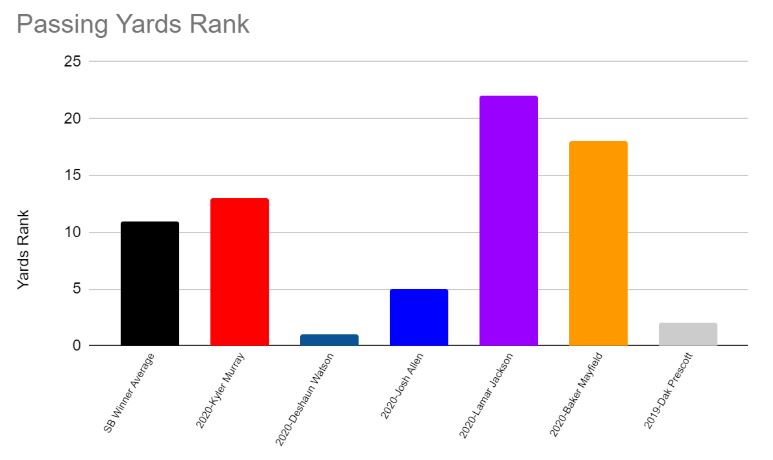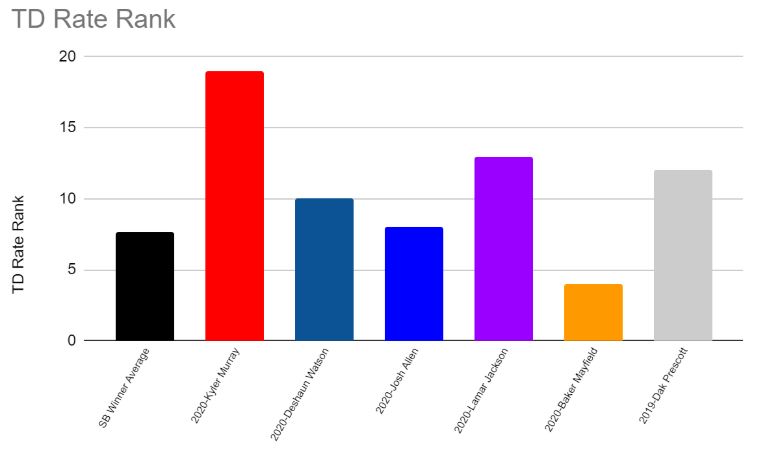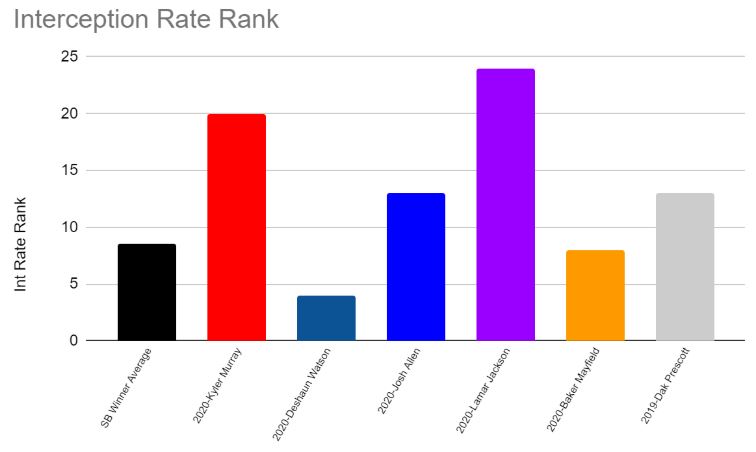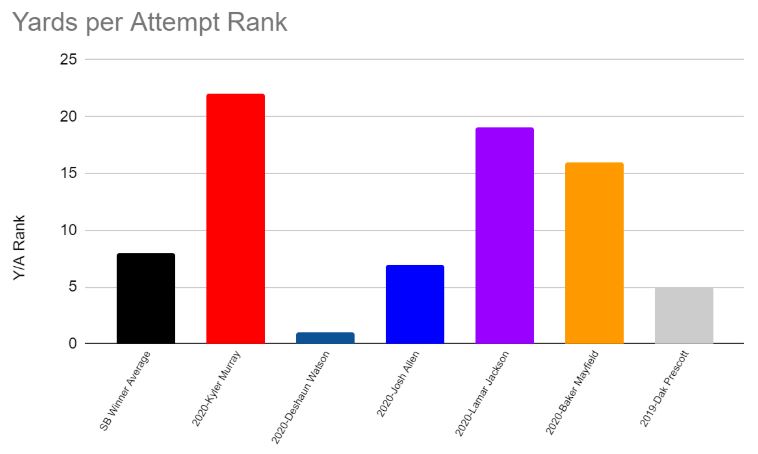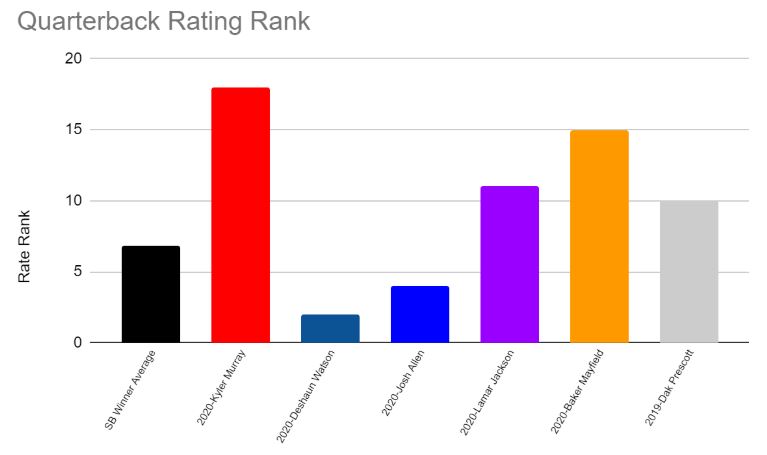 Of this group, Deshaun Watson is clearly the best, or at least had the best season, ranking in the top-10 in every category and top-5 in almost all. Josh Allen, top-10 in 5 out of 6, and Dak Prescott, top-10 in 4 out of 6, are next. There is less separation between Jackson, Mayfield, and Murray, so you could probably rank those three in any order. Jackson is the best runner, but Murray is the most accurate passer. Jackson also passes far less often than Murray and Mayfield.
So which would I bet on to win the Superbowl next? Based purely on quarterback play, I'd take Deshaun Watson. However, it takes a team to win the Superbowl, and the Texans were not very good. And with Watson asking out of Houston, it's hard to say what will happen with him.
Allen and Prescott are next. I trust Prescott more, but he's returning from injury and his long-term contract status is murky, so it's hard to say what'll happen with him in the next couple of seasons. Allen still makes me nervous, but he's been proving me wrong. Plus, his team is really good, rated as a "clear-cut contender right now" by the same ESPN article. So if I had to bet on the next young QB to become a first-time Superbowl winner, I'd probably choose Josh Allen.
back to blog