Image via ncaa.com
2021 NCAA Tournament Brackets
By the CouchGM Staff on March 18, 2021
The CouchGM team makes their NCAA tournament picks!
Andrew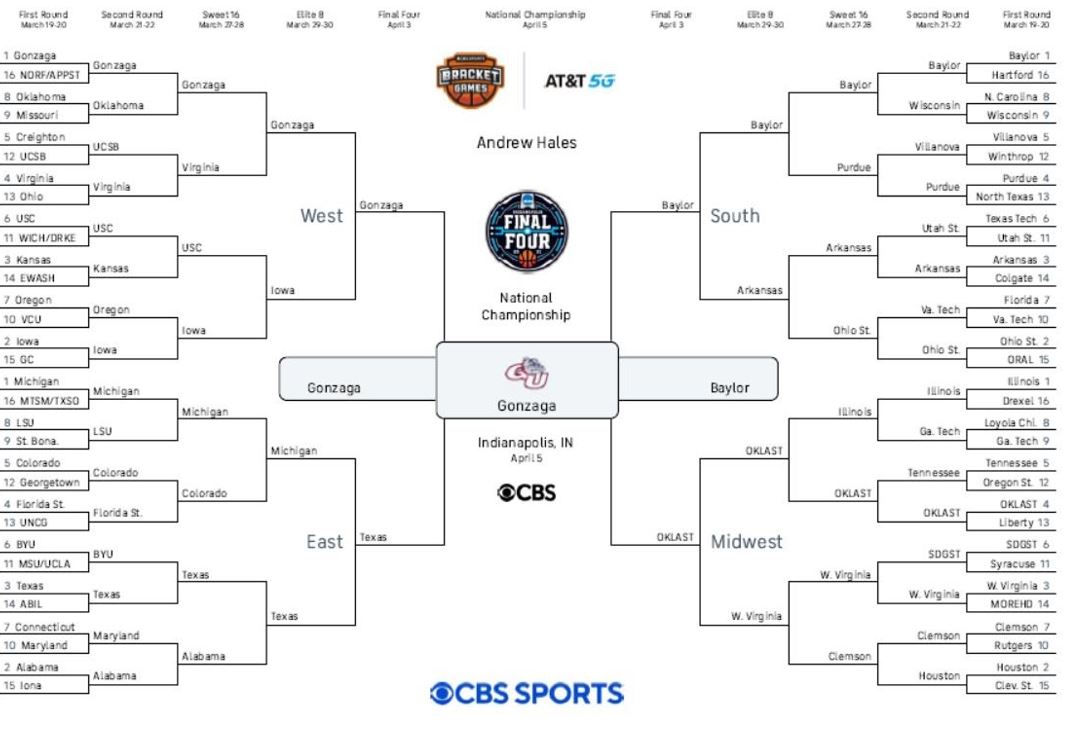 Most bracket pools have the standard scoring model of round 1 games being worth 1 point, round 2 is double to 2 points per correct answer, Sweet 16 doubles again to 4 points, and so on. I've seen it countless times where I'm way ahead and don't pick the correct champion and end up losing, or vice versa. If you're trying to win your bracket pool, picking the winner is your only chance to win though picking the upset may be worth more bragging rights.
West Region: It's hard to bet against an undefeated team. I feel like they got a tough draw having Iowa and Virginia, but both of those teams have flaws (Virginia plays slow and doesn't score much and Iowa doesn't shoot particularly well (only 46% from the field but an impressive 38% from 3 point range). Iowa's only losses in the last 10 games are to #1 seed Illinois and #1 seed Michigan. They did beat 6 other tournament teams in that stretch so they're definitely peaking at the right time.
South Region: Baylor and Gonzaga were #1 and #2 in the AP and Coaches Polls most of the year. I pick Baylor to get to the Final Four from this region. They say that intelligent people adjust to new information, so I had to update my bracket to have two double digit seeds winning their first round game here but have seeds 1-4 getting to the sweet 16 in this region.
Midwest Region: This is the hardest region to me. I'm not sold on Illinois, but that's just the eye test. The numbers are great (#3 NET ranking, 7-3 vs top 25 teams, a healthy margin of 12.5 points per game). I'm also not sold on Houston but am high on seeds 4-6. West Virginia is not worthy of a #3 seed in my opinion. Heck they lost their last 2 games to Oklahoma State (one at home and one in the conference tournament) yet somehow Oklahoma State is the #4. Based on upsets I think we're in store for another WVU vs OK State game in the Elite 8. In the end I think the star player will show up and potential #1 pick Cade Cunningham will lead them to the Final Four.
East Region: So, either I am high on the Big 12 (I never thought I'd say that since I despise Kansas) but I like Texas to get to the Final Four, meaning I'm picking 3 Big 12 teams getting to the Final Four. I think Georgetown's Cinderella run ends on day 1 but Colorado is led by senior McKinley Wright IV. This year I think that leadership will come in handy. No stats to back it up, just my thoughts.
Final Four: Gonzaga is the best team and I think they win a showdown with Baylor to take the title. All of this is to say that we're splitting hairs when it comes to who will win once you get past the Sweet 16 or the Elite 8. A bad call in the clutch or one player having a career night can overshadow any advanced stats or predictions - I'm looking at you Sam Dekker on #1 Wisconsin over #2 Arizona in the 2015 Elite 8 going 5 of 5 from 3 point range in the 2nd half en route to a career high 27 points, turning a halftime deficit into a 7 point victory. If he shoots closer to his career average Wisconsin loses. Isn't that why we love these next 3 weeks though?
Terry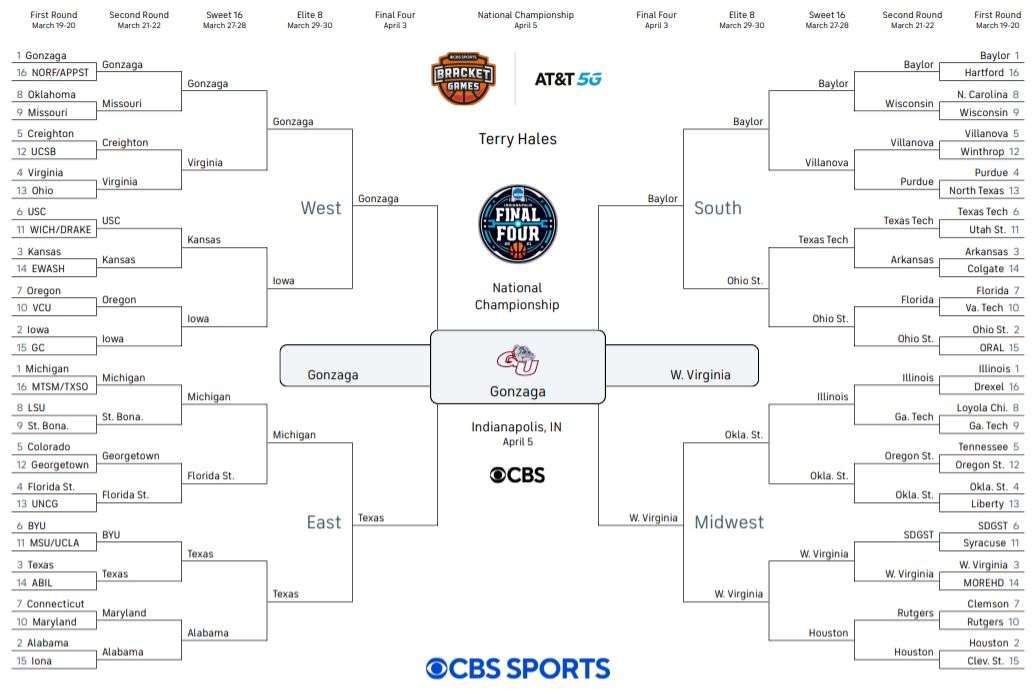 I'm actually really looking forward to seeing how this tournament plays out. In particular I'm wondering about two things. First, what will be the impact of the smaller venues on outside shooting percentages. Not a lot of three-point shooters like to shoot in domes so I'm wondering if the smaller venues will allow for some higher shooting percentages from deep and whether that will allow for more or fewer upsets. Second, in regard to underdogs, I'm wondering if the emotional wave that a team can ride will be smaller. Especially in the first two rounds, you see the crowds really get behind an underdog that doesn't get crushed in the opening minutes of a game. Historically, if an underdog can hang tough for the first ten minutes or even play with the lead, the crowd can play a big role in how the underdog sustains its good play. With a decrease in that emotional energy, I'm wondering if there will be fewer upsets in the first weekend.
Other factors that I feel will matter more in this year's tournament-in-a-bubble include strength of schedule and record against top 25 teams. It's a red flag when you see a team with a 6-3 record against the top 25 but nine losses overall. It really makes you question what happened in those other six games. But if that team had the 5th hardest strength of schedule then they still might be worth picking especially in the first weekend.
Factor in all of that and I think the first two rounds will go mostly according to chalk. Other than the 8 vs. 9 games (where I picked all four #9 seeds), I only picked four upsets (#10 Maryland, #12 Georgetown, #12 Oregon St. and #10 Rutgers), and I picked none of those to make it to a regional final.
Zach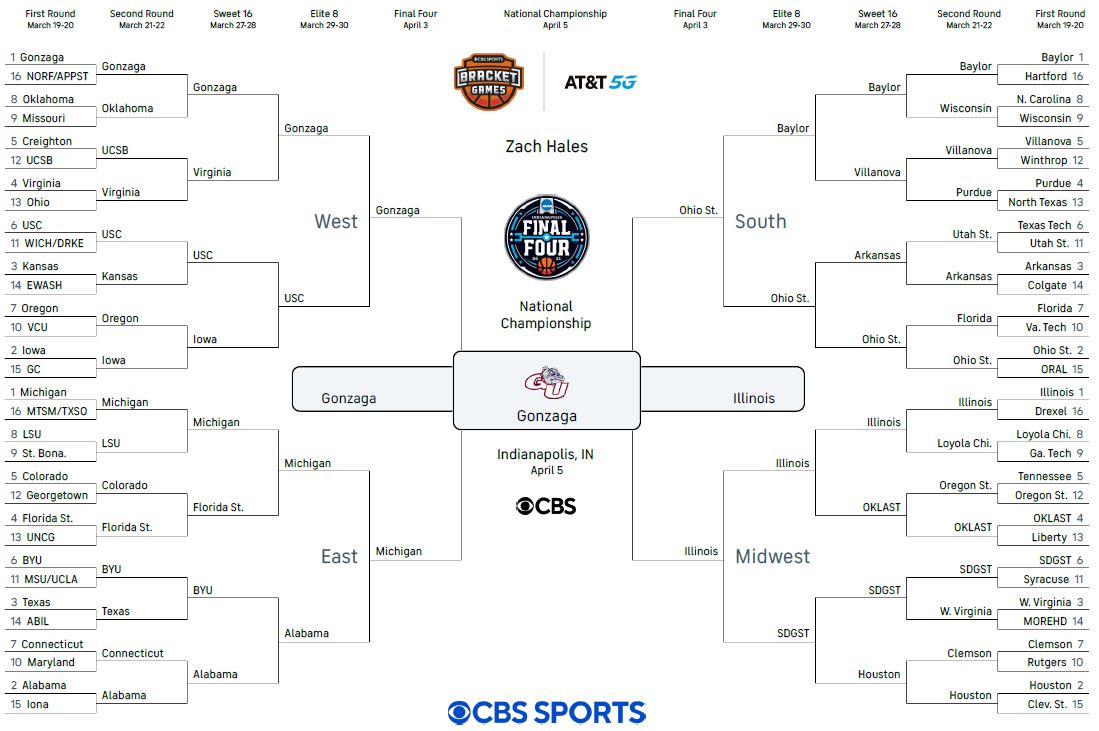 The most important pick is the champion, so I started there. Going in, I was leaning towards Gonzaga or Baylor, but I looked back at the past 10 champions to see if there were any trends. I looked at a few different team stats, but Ken Pomeroy's ratings and tournament seed were most telling:

(AdjEM, Adjusted Efficiency Margin, is basically points scored [AdjO] minus points allowed [AdjD] per 100 possessions, see kenpom.com for more details)
So barring a hot, Cinderella tournament run by a UConn guard (Shabazz Napier 2014, Kemba Walker 2011), the tournament winner is basically going to be a #1 seed, #1 in KenPom AdjEM (or top-3 at worst), top-3 in AdjO, and top-11 in AdjD. Given those criteria, the champion will be Gonzaga (#1 seed, #1 in AdjEM, #1 in AdjO, #10 in AdjD). They rate almost identically to 2018 Champion Villanova. I watched Gonzaga's first game of the season and right away I could tell that they were legit and that Jalen Suggs is a dude. Plus they have an experienced go-to player in First-Team All-American Corey Kispert, who is percentage points from 50/40/90. So I'm sticking with my first impression.
Michigan (#1 seed, #2 AdjEm, #6 AdjO, #7 AdjD) and Illinois (#1 seed, #3 AdjEM, #7 AdjO, #5 AdjD) are also strong candidates. They also make my Final Four.
Next, according to CBS Sports, there have been 26 first-round upsets by double-digit seeds in the last 4 tournaments, so around 6-7 per tournament. So I chose a few: #12 Oregon State, who rode a hot streak to win the Pac-12 tournament, #12 UCSB, and #11 Utah State.
Lastly, I looked for potential lower seeds to go on a Cinderella run like 2014 UConn behind a star guard (or star player in general) to carry them in the tournament. Potential teams include #4 Oklahoma State with probable #1 overall pick Cade Cunningham, #6 USC, #6 San Diego State, #8 LSU, and #8 Loyola Chicago (2018 Final Four team).
I could also see a big tournament for #2 Ohio State's Duane Washington, Jr., who has a couple of 30 point games under his belt including 32 on a big stage in an OT loss to Illinois in the conference championship game. Though as a #2 seed, they are hardly a Cinderella. They get my last Final Four spot.
back to blog