Image via NBA.com
2021-2022 NBA Season Preview
By CouchGM Staff on October 19, 2021
CouchGM's prediction model for the 2021-2022 NBA season is revealed along with a season preview by the CouchGM staff.
Tonight is opening night for the 2021-2022 NBA season! Time to unveil a new set of prediction. This year's predictions use the same methodology as last years, but this year we've added predicted records for each team in addition to probability of winning the championship. The predictions use each teams end-of-season rating from last season, adjusted up or down based on roster change and injury (Kawhi, Murray) or other absence (Simmons, Irving). Check out the full predictions here.
Let's start with the Eastern Conference.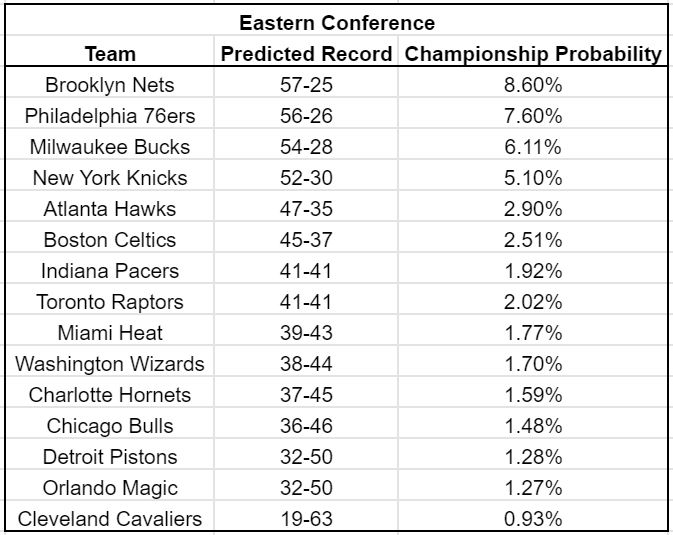 Any thoughts on the East?
Andrew: This year there is so much uncertainty at teams near the top of the projected rankings.
Nets - when will Kyrie play? He could get the vaccine today and play in all 82 games, or he could continue to stay unvaccinated and not play. How long until the missed paychecks change his mind? 1 paycheck? 5? 10?
76ers - Ben Simmons was suspended for game 1 for apparently physically showing up to practice but not mentally arriving. Apparently he is motivated by money because he showed up not long after they withheld his pay. Will he change his mentality starting on game 2 or will this force them to trade him for (what they think is) pennys on the dollar?
I think in the east the Nets will eventually sort things out. I don't know if that will be in April when Kyrie gets vaccinated or in April when New York changes their mandate so that Kyrie can play, but the Nets big 3 in the playoffs is hard to beat and I pick them for the Finals. 76ers and Bucks could be good. From there I think it's a drop to the next teams that could challenge them. Don't count out the Bulls.
Zach: I'll comment more on this below, but there are a couple of teams in the east for which the model's predictions surprise me. Detroit, Orlando, and New York are all projected to have 10 or more wins than last season (granted last season was a 72-game season instead of an 82-game season like this year, but I wouldn't expect any of those teams to have gone 10-0 in 10 additional games last year), which seems optimistic.
Moving on to the West.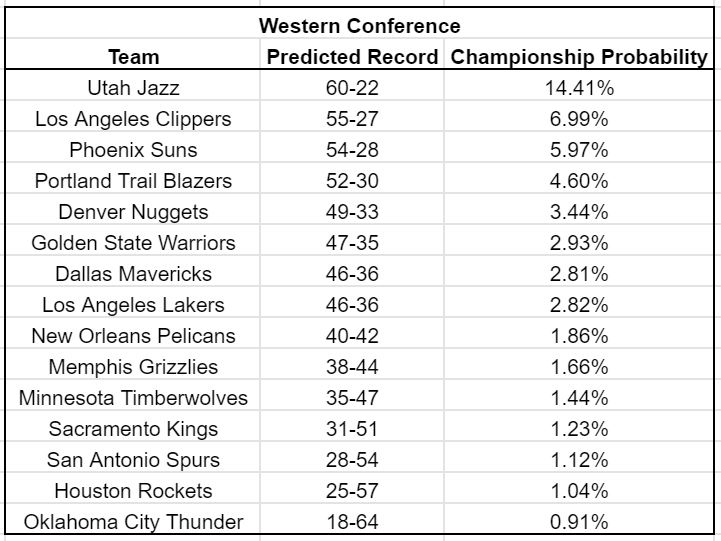 Any thoughts on the West?
Andrew: Overall, I think the west hast 2 possibly great teams (Jazz, Suns), and 6 potentially really good teams (Blazers, Nuggets, Warriors, Mavericks, Lakers, Clippers) that could challenge for the top seed depending on how their players come back from injury (Kawhi, Thompson, Murray) or if their stars have MVP years (Lebron, Lillard, Doncic). So there's my 8 playoff teams in the west.
Glad I live on the west coast so I can see the games and still go to bed at a decent hour because pretty much every Western Conference game is going to be must-see TV.
Zach: The model is really high on the Jazz. Maybe rightfully so, since they had the best record in the league last year and I think they got better this offseason.
I also think they Suns will be better than this prediction: they won 51 games last year and the model only thinks they'll get 54 this year in 82. I think they got better this off-season, too, with the McGee and Shamet additions.
Who is the most underrated team?
Andrew: The most underrated team is the Chicago Bulls. They have Zach LaVine who played big-time minutes in the Olympics. I understand that the Olympics was not the best basketball team the USA could have put together, but he played meaningful minutes in all of the games. I think he will get the Bulls closer to 0.500 if not a few games above. (Zach: I almost picked the Bulls, too, since I think they did a good job of upgrading the roster with the additions of Lonzo Ball and DeMar DeRozan.)
Terry: I'll offer two most underrated teams: the Los Angeles Lakers and the Denver Nuggets. Both could beat their projection by 8 games.
As much as I don't want to say so, I'm afraid that once the Los Angeles Lakers existing stars LeBron James and Anthony Davis figure out how to play with Russell Westbrook, they could easily beat their 46-win projection by 8-14 games. Yes, I see a scenario where the Lakers could win 60 games. Frank Vogel's challenge is balancing the minutes of his Big 3. If he can figure out how to play and sit LeBron, AD and Russ and how to fit the capable bench pieces with which of them, the Lakers could really roll. His Big 3 need to learn how to close games together. If those two things happen, the Lakers could win 60 games. This all assumes that the Lakers are able to manage the inevitable missed games by AD and probably LeBron because of LeBron's age and, well because AD is just not as durable as you'd expect given his physically dominating frame. But with Russ and the bench pieces, this year's Lakers could play different styles given who's available and still win 3 out of every 4 games.
Of all the teams who lost in last year's playoffs, I can see multiple scenarios in which the Denver Nuggets exceed their 49-win projection. I can only imagine how bad their sweep at the hands of the Phoenix Suns continues to bother the Nuggets. Look for a motivated Nikola Jokic. Not that the 2021 MVP has room for improvement, I just think that the sweep, how it happened and how he lost his cool will yield a focused-for-82-games Joker this year. How the Nuggets play against the Suns in both teams' season opener will be telling. The team likely feels disrespected, so look for them to get off to a fast start this season, something they did not do last year. I'll be somewhat surprised if they don't beat their projection by 8 games or more. If they start slowly, however, look for the temperature to rise quickly on Mike Malone's seat.
Zach: The model is perhaps low on the Lakers, but there are two others teams that it's simply wrong about- the Miami Heat and the Memphis Grizzlies. The model predicts 39 wins for the Heat but they won 40 last year! Fewer wins in 10 more games? Surprising. And the Heat supposedly got better with the Kyle Lowry addition. Similar story for the Grizzlies, where the model predicts 38 wins, equal to last year's total. The west will once again be brutal and somebody is going to have to drop and be left out, but this feels a little harsh to me. We'll see.
Who is the most overrated team?
Andrew: The most overrated team is a Los Angeles Clippers. This model accounts for Kawhi being out for most of the year, but I don't think Paul George and Reggie Jackson can carry that team to over 50 wins. I think that it was Reggie Jackson's best two months of basketball in his life that help them get to the Conference Finals, but I see him regressing and then being very one-dimensional. It would not surprise me if they can only win 45 games this year, obviously depending on when Kawhi comes back from injury.
Terry: I think the two obvious choices here are the Brooklyn Nets and the Philadelphia 76ers because Brooklyn has no idea if or when Kyrie will join the team and Philly is in a similar position but for different reasons with Ben Simmons. If Kyrie never plays for Brooklyn this year, then I think it is likely that the Nets will win fewer than their 56-win projection. How many fewer is too big of a question for this post. The same is true for the Ben Simmons and Philadelphia. However, if he does not play for the 76ers this year, they may still hit their 56-win projection if they are able to trade him. Joel Embiid is still a MVP caliber cornerstone piece and the Sixers may feel that a WAR (Wins Above Replacement) analysis of Simmons' contribution can be replaced. It's not too hard to agree given Simmons' playoff performance/crunch-time disappearance last year.
However, this year's most overrated team is the New York Knicks. Many outside of New York believe the Knicks overachieved last year and that Tom Thibodeau should have the runner-up in the Coach of the Year balloting (Zach: PREACH!). Julius Randle is their alpha and he has shown that he can put up strong numbers (23-10-5 last year). They added Evan Fournier, who should help, but now they have two fragile but capable point guards with this summer's addition of Kemba Walker to go with Derrick Rose. Getting 24-minutes each from those two sounds good on paper but I doubt that both of them will stay healthy enough for a 52-win season. That leaves more of the playmaking responsibility to Randle and Fournier. Also, Reggie Bullock fit nicely in New York and he will be missed. Don't be surprised if the Knicks' win total tops out at 46, 6-wins lower than their projection.
Zach: I know I said above that the Utah Jazz got better and were last season's best team, but being 5 wins ahead of anyone else in the West seems like too much to me. Even with how good they were last year they were only 1 win ahead of the Suns, who I also believe got better. Don't get me wrong, I do think the Jazz will be good and could very well have the best record in the league again, I just don't think they will be that much better than anyone else in the Wild West. This comment is more about their prediction relative to everyone else.
Who is your NBA Finals champion?
Andrew: In the West, I have a 1 in 8 chance, so I'll vote for the Jazz to get to the Finals and break their long playoff failure streak. I think the 2 best teams by far are the Jazz and Suns, and I think the Suns may regress if CP3 doesn't play like an MVP candidate. Then again, maybe Ayton will be upset about his contract and play like a contract year player and be a DPOY candidate. Either way, I think the Jazz are the safer bet.
The Finals will be Nets over Jazz. I hate myself for saying it, but ain't nobody stopping Durant with a championship on the line.
Terry: Predicting this year's champion is difficult because of the big Brooklyn Kyrie question. If he plays and KD and the Beard are healthy, the only team that beats Brooklyn will be Brooklyn. But because the Kyrie return date is so indefinite, this year's champion will be the Los Angeles Lakers. The roster is not just a better 3-point shooting team outside of the Big 3, but this is a team that should be able to grind out wins in the half court too. Both their net offense and net defense ratings should be improved over last year, making LA good enough to beat most teams in the Association. Anything less than the Western Conference finals would be an underachievement. And put the Lakers in the Finals and the current, older version of LeBron should do the rest.
Zach: I'm having a hard time with this one. I'd take the Nets if I knew Irving was going to play, and I'm tempted to pick them anyway because Durant is just that good. I'm also tempted by the Lakers, because it feels wrong to bet against LeBron, notwithstanding last season's first-round exit. I'll go homer and choose the Phoenix Suns. They were only 2 wins away last year and might have won had Saric not been injured (and had they not choked away a couple of clutch situations), and I think they improved their depth with Shamet and McGee. I can dream, can't I?
back to blog