Image from NBA.com
The GOAT Debate
By Zach Hales, CouchGM on October 16, 2020
After LeBron's 4th NBA championship, has he overtaken Jordan as the GOAT?
LeBron and the Los Angeles Lakers won the 2020 NBA Championship. This is the 17th for the Lakers and the 4th for LeBron. With another ring, has he caught (or surpassed) Jordan as the Greatest of All Time?
The case for Jordan has an obvious starting point: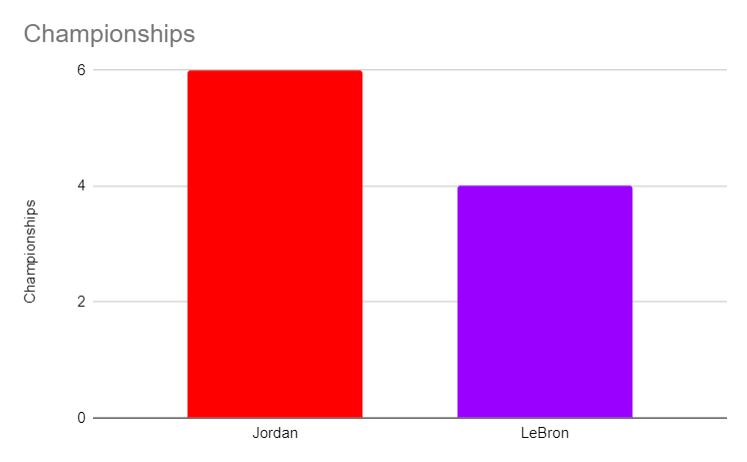 Jordan won 6 championships and Finals MVP awards compared to 4 of each for LeBron. He's also a perfect 6-0 in the NBA Finals. More championships (and more Finals MVPs) and a perfect record on the NBA's biggest stage means he's the best, right?
Not so fast. 6 championships is not so much greater than 4 that the discussion ends right there. And winning a championship is a team accomplishment, after all. Besides, if only championships mattered, then Bill Russell, with 11 rings, would be the undisputed GOAT.
LeBron also still looks like the best player in the world and is still playing. What happens if the Lakers repeat in 2021 and LeBron's total increases to 5?
Team context is important, too. The analysis that follows aims to view MJ's and LeBron's teams in the context of the league during their careers. I analyzed the net ratings of the other teams in the league for every year in Jordan's career and averaged those net ratings for teams at each round of the playoffs. I then did the same for LeBron's career. The charts below depict 95% confidence intervals around the net rating [difference between points scored and points allowed per 100 possessions] of teams at each round of the playoffs. (Note: the confidence intervals for Champion, NBA Finals, and Conference Finals, and second round are true 95% confidence intervals. The second round region is really the region including a 95% confidence interval around the 5th-placed teams and 8th placed teams and everything in between. The first round region is really the region including a 95% confidence interval around the 9th-placed teams and 16th-placed teams and everything in between.)
So, for example, we'd expect a team with a net rating in the blue (Champion) or red (NBA Finals) regions to be legitimate championship contenders. Teams in the yellow region we'd expect to reach the conference finals, but no further, and so on. Teams that won a championship with a net rating below the blue range are outliers that overperformed. Teams that reached the NBA Finals with a net rating below the red range are outliers that overperformed and teams that lost in the NBA Finals with a net rating above the red range are outliers that underperformed. And so on and so forth. Looking at each of Jordan's and LeBron's teams in this context will help us determine how Jordan-led and LeBron-led teams performed against expectations.
All stats are taken from Basketball-Reference, unless otherwise noted, and only interesting teams (overachievers, underachievers, or championship winners) are highlighted in the charts below.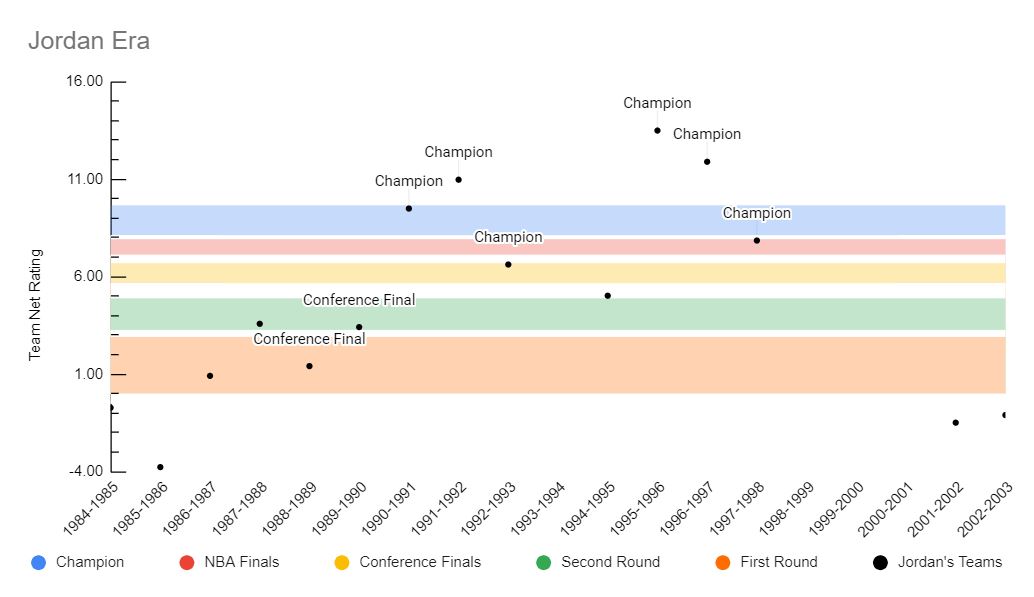 Jordan's championship teams stand out right away. Yes, he won 6 championships. But for 3 of those ('91-'92, '95-'96, and '96-'97), his teams were extreme outliers in that they were far and away better than the expected championship level team. Losing the championship in any of these years would have been an extreme disappointment. A 4th championship ('90-'91) was won with a team at the top end of the 95% confidence interval for championship teams, so again, this championship is expected. Jordan's last championship ('97-'98) was with a NBA Finals-level team, so a slight overperformance, but the team was still a legitimate contender.
A few other teams stand out for overachieving. One of these is the '92-'93 championship team, which rates as only a conference finals team (but at the same time was coming off of back-to-back championships). The others are the '88-'89 team, firmly a first round-level team, and '89-'90 team, a lower second round team, both of which Jordan took to the Conference Finals.
Jordan reached the playoffs in 13 out of his 15 NBA seasons (86.7% of the time). He reached the NBA Finals in 6 out of 13 playoff appearances (46.2%).
I conclude from this that Jordan-led teams met playoff expectations and never failed to deliver.
Let's look at LeBron.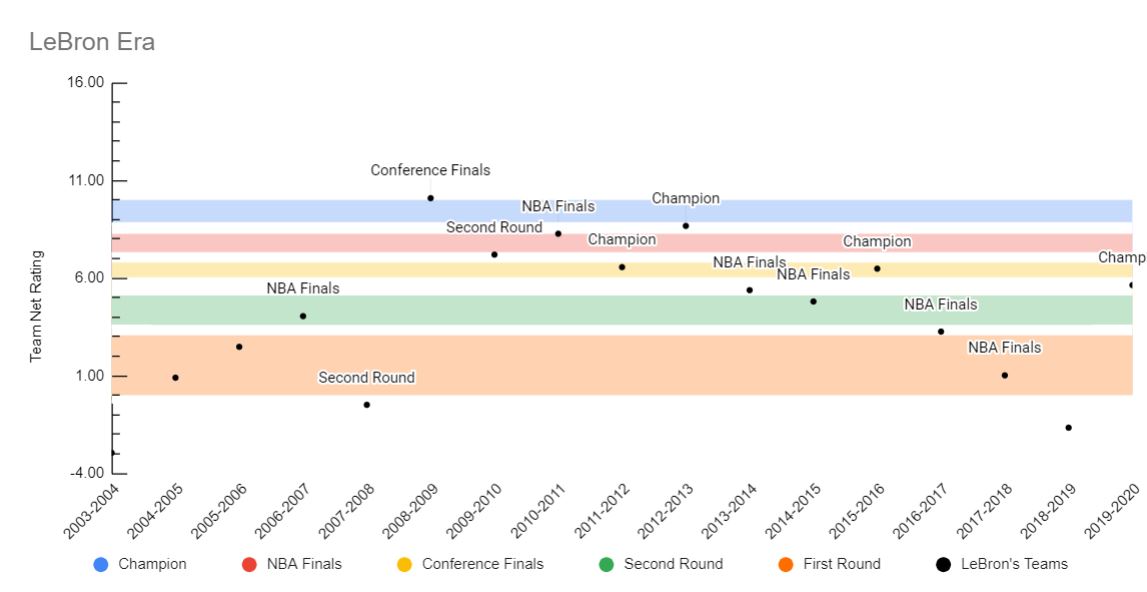 LeBron overachieved early in his career and reached the NBA Finals faster than Jordan by leading a second round-level team in '06-'07 to the Finals. The next year, he also led a bad team to a first round upset.
However, the next two seasons he had two significant playoff disappointments. His '08-'09 Cavaliers team was a championship level team that lost in the Conference Finals, and his '09-'10 Cavaliers were a borderline Finals-level team that lost in the second round. These two disappointments were part of what drove him to Miami that offseason.
The next half of LeBron's career, though, is full of playoff overachievement. Of his 4 championships, LeBron won 3 with Conference Finals-level teams or worse. Only his '12-'13 championship, the second with the Heat, was with a NBA finals or championship level team. He also repeatedly led (relatively) bad teams to the NBA Finals. During his second stint with the Cavs, in 3 of the 4 years his team was a second round team or worse, and yet they reached the Finals every year.
(There is the argument that the east was weaker than the west and so it was an easy path for LeBron to make the Finals. However, there were always teams in the east better than LeBron's teams. The top of the east was also pretty comparable to the top of the west, and the relative weakness of the east was much more pronounced at the bottom of the conference.)
LeBron has reached the playoffs in 14 out of his 17 NBA seasons (82.3% of the time - about even with Jordan). He has reached the NBA Finals in 10 out of 14 playoff appearances (71.4% - a significantly higher rate than Jordan).
From this I conclude that early in his career LeBron's playoff teams were more volatile and prone to underachieving. Later in his career, however, having LeBron was basically a guarantee at an NBA Finals appearance and a shot at the championship, exceeding expectations on a yearly basis.
Some will argue that LeBron lost in the NBA Finals as many times as Jordan won, but I'd also point out that LeBron played on worse teams than Jordan, at least when looking at their championship winning teams. Jordan's teams peaked higher, but LeBron's teams sustained their peak for longer. Part of this is due to Jordan's retirement(s).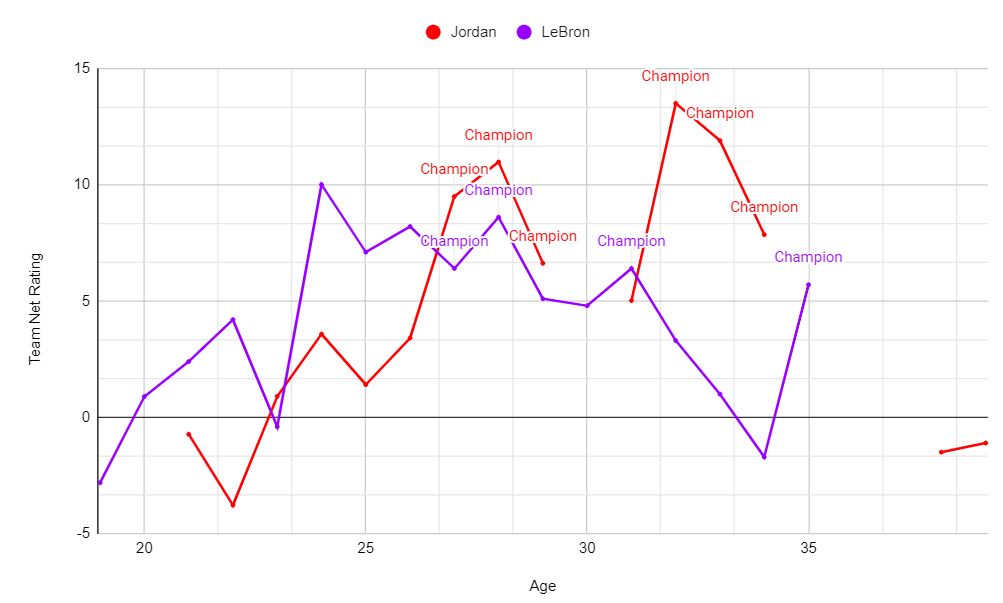 And while it is possible that Jordan's teams were better than LeBron's because Jordan is better than LeBron, Jordan's teammates were also generally better and contributed more to the team's success than LeBron's teammates. The charts below consider championship teams only. (Note: WS means win shares, which estimates how many wins a player contributed to his team. WS% is the percentage of the team's wins that a player contributed, or WS% = player WS / team WS.)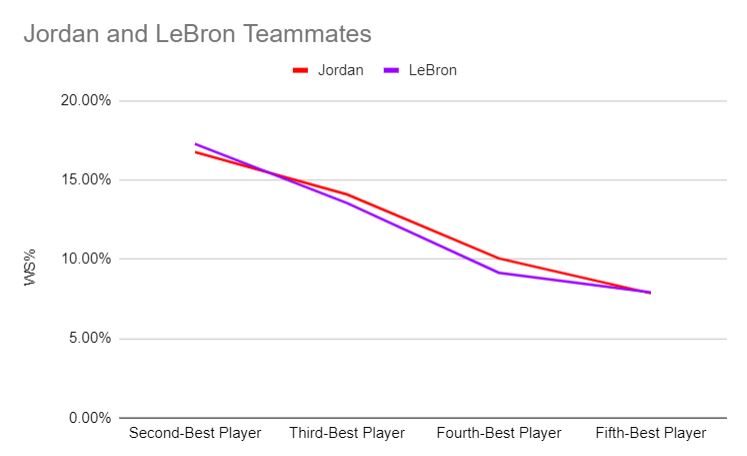 LeBron had by far the best individual teammate (2019-2020 Anthony Davis, 23.3 WS%, significantly higher than his other second-best players), which tilts the second best-player in LeBron's favor. If we remove Davis as an outlier (and then, to be fair, remove Jordan's individual best teammate [1991-1992 Horace Grant, 20.6 WS%]):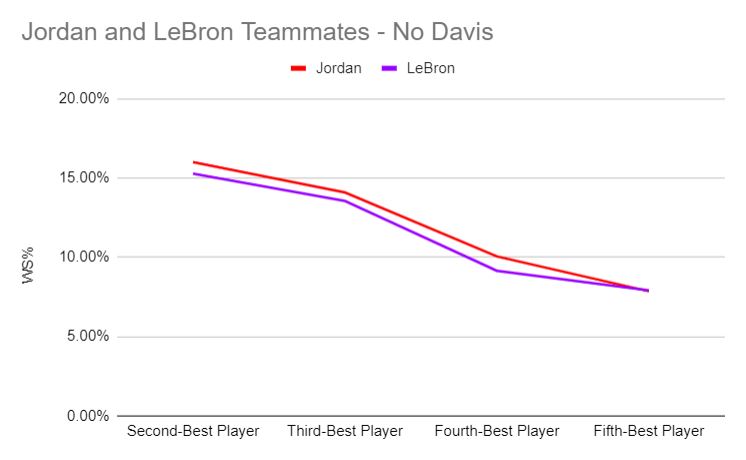 With the exception of Anthony Davis, Jordan had better second-, third-, and fourth-best players compared to LeBron. Their fifth-best players were about even. Differences beyond the top 5 players are less important.
Additionally, Jordan's first three-peat was all with largely the same team and same head coach. All three had Horace Grant and Scottie Pippen as non-Jordan players #1 and #2 on the team, and an all-time-great head coach in Phil Jackson.
Jordan's second three-peat had even more continuity than the first. Again the same coach, but this time the 5 best non-Jordan players (Pippen, Steve Kerr, Toni Kukoc, Dennis Rodman, Ron Harper) were the same for all 3 championships. Again all three were coached by Jackson.
So Jordan won 6 championships, but he did it with effectively only 2 different teams. And his head coach (Jackson) and second-best player (Pippen) were constant through all six championships. Which is great. Once Jordan found the right combination, he maximized it to the tune of 6 rings.
Obviously there is more variability in LeBron's teams since he played for more franchises. He is the first player in NBA history to win a championship with three different franchises.
The two Heat teams were basically the same (LeBron-Wade-Bosh with Spoelstra as coach), so those two championships came with effectively one team. He also won with a different team in Cleveland and another with the Lakers. So LeBron led effectively 3 different teams with 3 different head coaches (4 if you want to count David Blatt, who was fired in the middle of the '15-'16 season and replaced by Tyronn Lue) to championships.
LeBron also went up against, depending on your taste, one of the greatest teams of all time for 4 years in a row (Warriors). Jordan's team didn't face that kind of competition because Jordan's team was that team. As noted by The Ringer, prior to the 2020 NBA Finals, LeBron's teams had been the underdog in 7 out of 9 Finals appearances. Jordan's team was the favorite in 5 out of 6. So you could say that each overachieved by one championship.
So Jordan won more, but LeBron won with more teams and in more situations. Jordan peaked higher than LeBron, but LeBron's peak lasted longer. Jordan never failed to meet playoff expectations and took advantage of every championship opportunity. LeBron had some disappointments early, but significantly overachieved late. Jordan had better teams and better teammates. Take your pick.
If I had to build a team around one, I'd choose LeBron. He's comparable to Jordan as a scorer but also a better rebounder, better passer/playmaker, and bigger, making him more versatile on both offense and defense. We've also seen that LeBron has been the driver of 3 distinct championship teams with 3 different coaches, while Jordan had 2 distinct championship teams (one of which is, depending on your taste, the all-time greatest team) with only 1 head coach (also among the greatest).
You can argue who was the better player, but I think it's clear that it would be easier to build a champion around LeBron. CouchGM is Team LeBron.
back to blog