Image via nba.com
2020 NBA Draft Scouting
By Zach Hales, CouchGM on September 17, 2020
This series will discuss the basics of NBA draft strategy. This article, NBA Draft 101, will cover the skills that should be prioritized when evaluating NBA draft prospects.
Now that we've covered NBA Draft 101 and established rules for evaluating players (three-point shooting, shot creation, defense), what follows is a scouting report for players following the NBA Draft 101 rules as a guide.
In order of priority, the skills I am looking for are:
1. Three-point shooting
2. Shot-creation
3. Defense
Let's look at each skill and see which players stand out for each. This discussion is not intended as an in-depth review of each player, but rather an exploratory first pass at draft prospects to see who already excels at the three skills and could be expected to contribute them right away. Future discussions will cover individual players in more detail to examine more fully the player's skills and potential to develop more skills.
The lists of players below includes the players ranked in the top-15 on the Big Board at theringer.com, except I've traded out Aleksej Pokusevski (#15 on the big board) for Saddiq Bey because I'm the CouchGM and get to make those kinds of decisions. I won't rate every player in every category, though, just those where they will be expected to make an impact.
All stats are from 2019-2020 and are taken from sports-reference.com or basketball-reference.com, unless otherwise noted.
1. Three-point Shooting
College/international free-throw percentage tends to be a better predictor for NBA three-point shooting than college/international three-point shooting. So we'll look at three-point shooting numbers for players that are good now, and then briefly at free-throw shooting to see who has potential to develop the skill in the future. (Again, this is a first-pass exercise. Future discussions will cover players in more detail).
*Stats on basketball-reference.com for Killian Hayes only included Euro Cup games (10 games) and for Deni Avdija only included Euroleague games (26 games). RealGm.com included all competitions (33 games for Hayes, 59 for Avdija). I've included the realgm.com stats for these players.
Three-point attempt rate is the proportion of a player's total attempts that are three-point shots. Free-throw attempt rate is how often a player shoots free-throws relative to field goals (FTA/FGA).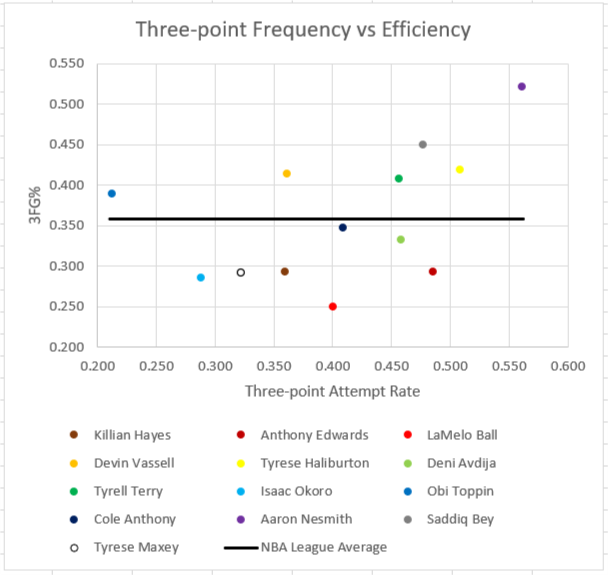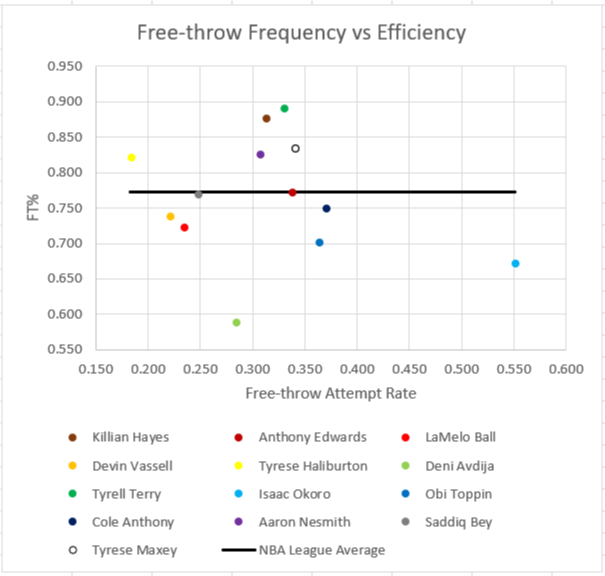 So who stands out? Definitely Aaron Nesmith, who is by far both the most frequent three-point shooter and most efficient. He missed much of the season due to injury, which could be a concern, but even in fewer games he attempted more three-pointers (115) than Hayes (102), Ball (80), Vassell (106) and Maxey (113), so I still trust the sample.
Other good shooters include Bey, Haliburton, Terry, Toppin, and Terry. All but Toppin shot better than 40%, and Toppin shot 39%.
There are also a handful of bad shooters, at least in terms of percentage. Ball, Edwards, Hayes, Okoro, and Maxey all shot below 30%. To assess their potential to improve, I'd look at free-throw shooting and shooting form. We'll only look at free-throw shooting here.
From the free-throw shooting chart we see that even though he shot the three poorly, Hayes is a very good free-throw shooter (87%, second only to Terry). Ball is a below average free-throw shooter (and the Ball brothers' form is already well-documented). Maxey is also a good free-throw shooter (83%). Edwards is right at NBA average, and Okoro, while he shoots them A LOT, is a poor shooter. This tells me that Hayes, Maxey, and Edwards have a pretty good chance at improving their three-point shooting. Ball and Okoro will require more work. Deni Avdija is the worst free-throw shooter of the bunch and he's also a below average three-point shooter right now, though better than Ball and Okoro. He'll also take some work.
Otherwise, the free-throw shooting for the most part confirmed what we already thought. Haliburton, Terry, and Nesmith are all good free-throw and three-point shooters. Bey is an average free-throw shooter. Vassell is a little below average as a free-throw shooter, but not so much that it is a concern. So we still think they will both be good.
Toppin was a good three-point shooter but a below average free-throw shooter. I'd probably expect him to be about average in the NBA.
Cole Anthony is pretty much average in both categories. He'll probably continue to be average.
So to summarize, the players that should be able to contribute as good three-point shooters right away are Bey, Haliburton, Nesmith, Terry, and Vassell.
2. Shot-creation
This category can be broken down into two categories: team creation and self creation. Both are the kinds of players that you want to have on your team. The more guys that can create a good shot, the easier offense becomes. For now, we'll focus just on team creation.
Shot creation can be measured by simple stats like assists and assist:turnover ratio, but this doesn't tell the whole story. More advanced and tracking stats like assist percentage:usage ratio or isolation efficiency are also useful, but the advanced/tracking stats aren't easily available like they are for the NBA.
Let's see what the numbers say about some of these players.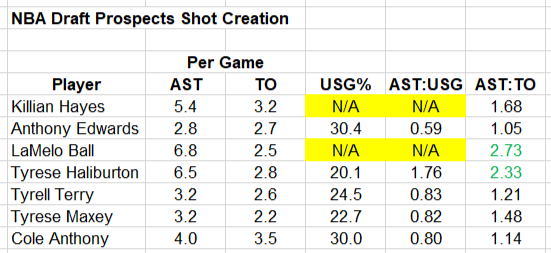 LaMelo Ball and Tyrese Haliburton are among the best at setting up their teammates. Haliburton's low usage also indicates that he is much more of a playmaker for his teammates than he is for himself. Killian Hayes is also a good playmaker but by the numbers is a little behind Ball and Haliburton. He's a tier ahead of everyone else, though.
Cole Anthony is next best in assists but his AST:TO is barely over 1.0. He's really more of a shooter than a playmaker.
Tyrell Terry and Tyrese Maxey are the next tier. Both have decent AST:TO > 1.0 but, along with Cole Anthony, also have AST:USG ~ 0.8. (Note: AST:USG ratio really tells more about play style than ability. If AST:USG > 1.0, the player tends more toward assisting and if AST:USG < 1.0, the player tends towards shooting. This is obvious by watching players play, but this is just an attempt at quantifying to what extent the players tend one way or the other.) So these guys are all score-first type guards.
Then there's Anthony Edwards. He has the usage rate of a big-time scorer and he looks the part. He also approaches 3.0 AST/game, which is decent. But his AST:TO is only barely above 1.0 and AST:USG = 0.59, so he tends way towards scoring. His team creation isn't quite there yet. This and shooting will be the swing skills that determine how high his ceiling is.
So the only players I'd say could contribute right away from a team-creation perspective are Ball, Haliburton, and Hayes.
3. Defense
Defense is a category that is a little harder to evaluate with just stats since the traditional box score stats don't tell the whole story. In addition to the counting stats, we can also use size measurements to determine who could realistically be a multi-positional defender. We could get a better idea of a player's defensive potential by watching film, too. I won't display film here but I will give a few comments based on my observations.
Let's see the numbers.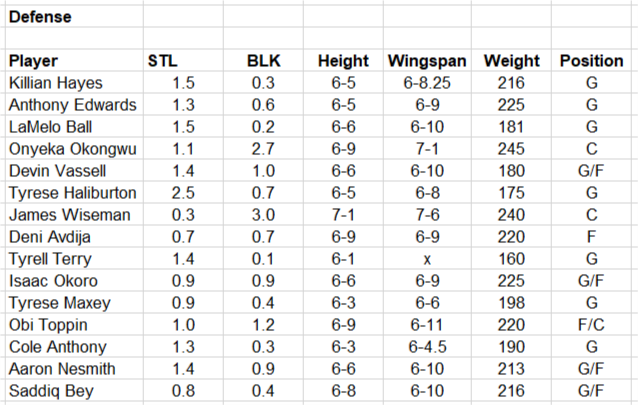 From the counting stats, the only players that really stand out are Okongwu (2.7 blocks per game), Wiseman (3.0 blocks per game), and Haliburton (2.5 steals per game).
One question for Okongwu is whether he is big and strong enough to guard the dominant centers in the league like Embiid, Towns, and Jokic. He looks like he could be a Bam Adebayo-type of defender if it all comes together. I'd expect him to be a positive defender from day 1.
Wiseman, at 7-1 with a 7-6 wingspan and 3.0 blocks per game, certainly looks the part of a rim-protector. He chased blocks a lot, though, so he'll need to be more disciplined. And I'm concerned about him defending the perimeter, where he will probably get targeted. But he'll probably contribute in the rim-protection department.
Haliburton has great steal numbers. He's tall, too, but pretty skinny. Whether he can bulk up will determine how well he guards bigger wings, but he should at least be able to guard guards and some wings.
Vassell averages at least 1 block and 1 steal per game, which is pretty solid for a wing, and has good size that suggests he should be a multipositional defender. He'll be an immediate contributor, too.
Toppin also averages 1 block and 1 steal, which looks good, but nobody watching him would confuse him for a really good defender.
The rest of the guards/forwards have good size. This draft is deep on players that look like they could be big wing defenders. No major red flags there, except...
The big question mark from this group is Tyrell Terry. We already saw that he is a great shooter, but at 6-1 (with no listed wingspan) and 160 lbs, he is by far the smallest player in the group and only a one-position defender. How big of an issue this could be likely depends on his team situation.
This analysis isn't quite fair, though, since other players have strong defensive reputations but their numbers don't stand out, like Bey and Okoro. From watching them play, though, it's pretty clear that they can really defend. So we'll include them on the list of impact defenders, too.
In summary, we expect that Bey, Haliburton, Okongwu, Okoro, Vassell, and Wiseman could contribute on defense right away.
REVIEW
Let's review all three skills and the players identified for each.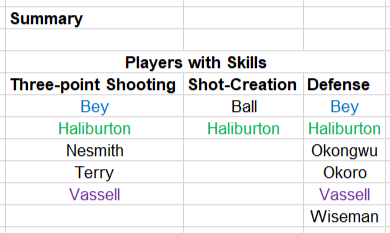 Three players show up in multiple categories: Saddiq Bey, and Tyrese Haliburton, and Devin Vassell. Tyrese Haliburton is the only player that shows up in all three.
This does not necessarily mean that I think these are the best players in the draft, but these players all have skills. And I like players that have great skills. I was looking for players that could contribute in these categories right away, so I believe Bey, Haliburton, and Vassell should be able to make immediate contributions to the teams that draft them and are among the players with the highest floor in the draft. These are players that will probably be available in the late lottery and mid-first round that I would target.
back to blog